Submitted by

dschwer

on Thu, 05/05/2016 - 11:12
The redesigned and relaunched NKBA magazine (now rebranded as NKBA Innovation+Inspiration) celebrates good design and best practices in all aspects of the kitchen and bath industry— projects, products, sales and marketing, showrooms, business, and more. Its layout is clean and uncluttered, with large images, illuminating infographics, and engaging copy.
KBIS, owned and produced by the NKBA, is an inspiring, interactive, trade show platform that showcases the latest industry products, trends, and technologies. KBIS is the voice of the kitchen and bath industry and has been named fastest growing show in attendance by Trade Show Executive magazine.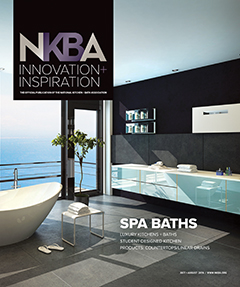 Top 10 Kitchen Trends for 2016
1. Transitional style, with clean lines, and less ornamentation
2. Two or more cabinet colors/finishes in the same kitchen, often in a light/dark combo
3. Pull-outs, tilt-outs, and tilt-ins for ease of storage, trash and recycling
4. The look of wood flooring dominates, be it actual wood or wood-look ceramic tile
5. Different countertops for islands and the perimeter, varying in both color and material
6. Outdoor kitchens, most popular in the Southeast
7. Built-in coffee stations and wet bars, as well as built-in wine refrigerators
8. Pocket doors
9. Pet spaces, including built-in feeding stations, food storage, and crates
10. Docking and charging stations
NEW CONTENT, NEW DESIGN
NKBA Innovation+Inspiration offers a completely new editorial content plan of projects, products, and industry news plus a striking new design to complement it.
Improving content marketing effectiveness with audience development strategy
Our audience development team compiles lists and analyses of high engagers of our content as well as brand advocates of your messages and deployments. With this knowledge, we can create more targeted campaigns to the people who have already shown interest.
 Audience segmentation and behavior analysis
 Marketing automation and lead-nurturing strategy
 Custom audience creation/curation
 Data appends/list de-dupes
2,230 - Total sponsor content opens*
789 - Sponsor content engagements 4x or more*
132 - Sponsor content engagements 8x or more*
50 - All sponsor content engagements*
Brand Staff Desc 2:
Sales Contacts
Adam Grubb
Director of Sales & Digital
317.219.7546
[email protected]
---
Tim Gillerlain
Integrated Media Advisor
States: IL, IN, MN, MO, ND, OH, SD
847.954.7916
[email protected]
---
Michael X. Stein
Integrated Media Advisor
States: DC, DE, GA, MD, NC, NJ, VA, WV
610.918.1828
[email protected]
---
Robert Reed
Integrated Media Advisor
States: AK, AZ, CA, CO, HI, ID, MT, NM, NV, OR, UT, WA, WY, Western Canada
630.845.1285
[email protected]
---
Jeff Elliott
Integrated Media Advisor - Principal
States: Eastern Canada
616.846.4633
[email protected]
---
Bill Black
Integrated Media Advisor
States: AL, AR, CT, FL, KY, LA, MA, ME, MS, PA, RI, SC, TN, VT
267.483.8788
[email protected]
---
Dave Clark
Integrated Media Advisor
States: IA, MI, NE, KS, OK, TX, WI
847.954.7982
[email protected]
Brand Markets Desc 2:
Top 10 Bathroom Trends for 2016
1. Greater acceptance of aging-in-place amenities: no-threshold showers, grab bars, higher vanity heights, chair-height toilets
2. Transitional is the most popular style, pulling away from contemporary
3. White is the most popular fixture color, and whites and grays are the most popular overall color schemes
4. More open shelving and floating vanities
5. More built-in storage functionality: more roll-out shelves in bath cabinetry, more "hidden" electrical outlets for blow dryers, etc.
6. Undermount sinks are far and away the most popular sink style. Emerging: 15% used a trough sink, which may increase slightly.
7. When tubs are installed in master bathrooms, they are most likely to be freestanding
8. Increasing use of shower amenities such as lights, built-in seats and benches, and a hand shower in addition to the mounted showerhead
9. Polished chrome is the most popular faucet finish
10. Other amenities specified by at least 25 percent of NKBA members in 2015:
a. Easy maintenance features
b. Electric radiant floor heating
c. Master bathrooms with coffee bars, microwaves, and wet bars
d. TV in mirror
e. Quiet or soft-close toilet seat
* NKBA 2016 Kitchen & Bath Design Trends Report
**NKBA 2016 Size of Industry Report